I know it's a bit different from what I normally put on this mighty site but I thought it would be something new to do and some fun to do also!
There is a couple of iron man costume one which is a more modern one while the other one is a bit more retro.
On escapade.co.uk, you can buy these costumes are a good price and there are also more add-ons to create your costume even better and more iron man like! There are costumes for men, women and even children! The delivery is quite cheap if you go for the standard delivery and don't get it shipped to another country out of Europe (because it's £79.99)!
But let's say you feel a bit evil and maybe want to go to a fancy dress party dressed as the wicked whiplash you can get this costume on the incredible escapade.com!
On amazon.com, these costumes are probably going to be a bit cheaper but the search feature doesn't fully search for the thing you want meaning when you type in "iron man costume", Spiderman costumes come up too! This is a bit annoying! So it might a take a bit of time to find the one you want but it could be a bit cheaper than escapade.com!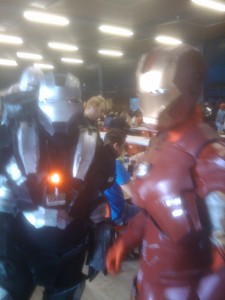 Or if you have a lot of time on your hands, you could make your own iron man out of cardboard like the one I saw and took a picture of at a local video game convection but that's just a suggestion because the iron man cardboard armour (and also war machine) I saw must have taken ages to build but looked amazing! and sorry about the picture quality, the picture was taken on my phone!